PrestaShop 1.7.6.0 beta is open for feedback!
You can download it and test it
The first Beta version for PrestaShop 1.7.6.0 is now ready for you to test!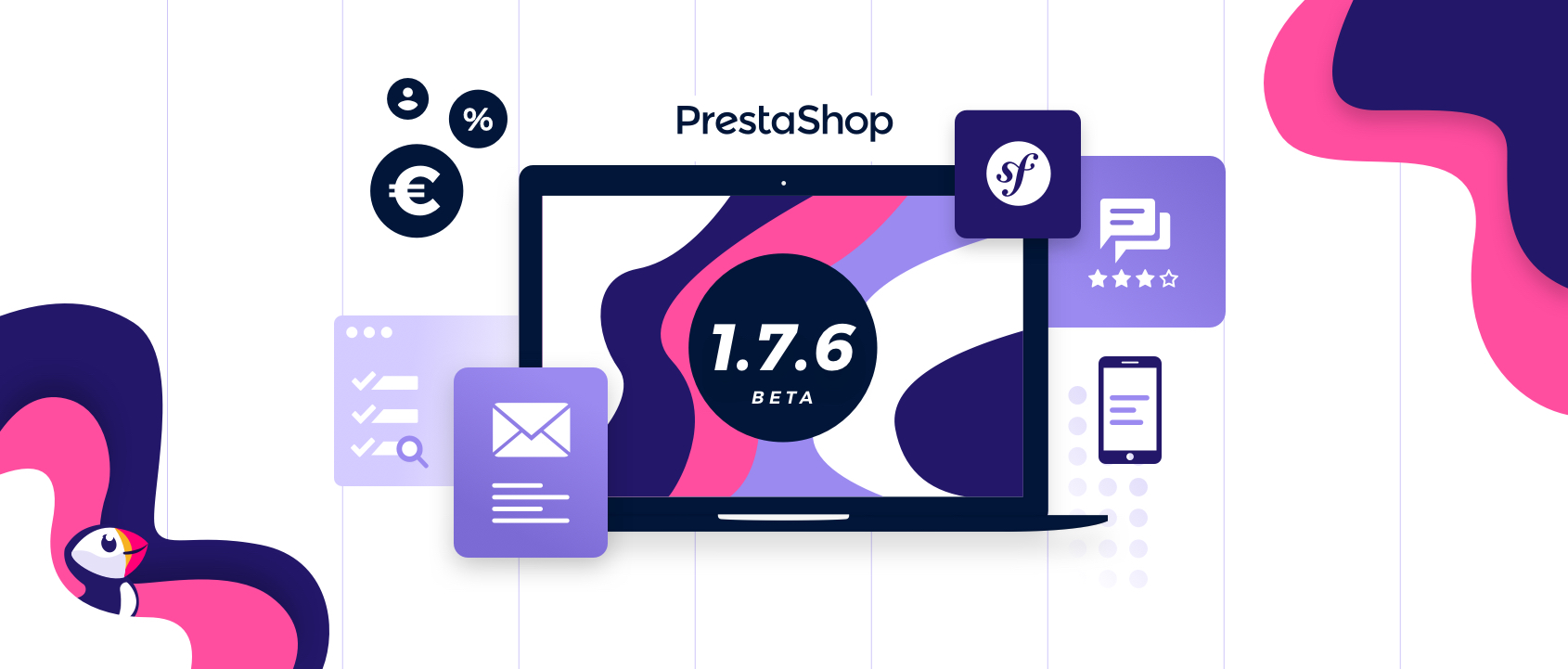 We are really happy to announce that we are close to releasing 1.7.6.0.
Over 6 months in the making, PrestaShop 1.7.6.0 will be a huge release, our biggest one yet, with over 600 merged Pull Requests at the time of writing.
As they say, an image is worth a thousand words, so here's a graph to show how this beta compares with previous final releases in terms of number of contributions: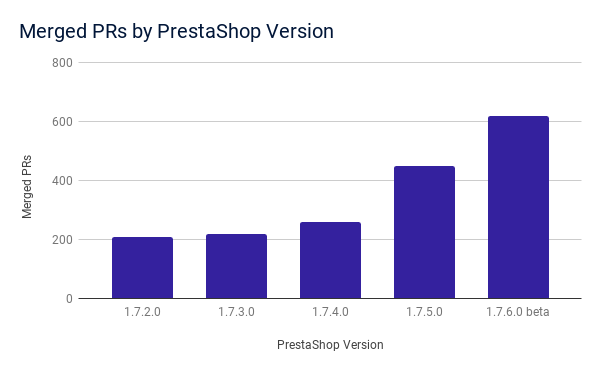 As you can see, this beta release is about 25% bigger than 1.7.5 right now and roughly 3x as big as 1.7.3… and we are still one month away from final! The community has also been very present for 1.7.6. A whopping 110 people (from the PS team and the community at large) contributed code to create this version, including 60 new contributors.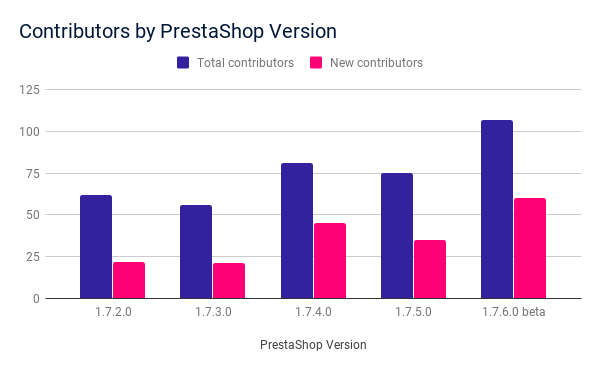 This Beta release is a great opportunity for you to start working with it before we release a stable version. Go download and install this Beta version as a test store, either on your machine or your web hosting, then play with it – and give us your feedback! We need you to test this new version of PrestaShop.
If you find regressions compared to previous versions, please create an issue on Github to help us to make it stable more quickly.
Remember, this beta version is pre-release software. Do not use it on your production shop!
News & improvements
SEO Optimization
SEO optimization for combination products:
All combinations now have the parent product's URL as canonical,
Going to the parent product's URL displays the default combination, there is no redirection anymore #13009
Front Office improvements
Improved Catalog mode: for showcase websites, you can now choose to display or to hide product prices on the website
Price & taxes project #9703 for a better and clearer display of the order price details (product, shipping, taxes, etc.) on all steps of the checkout :

Bug fixes for B2B, specific customer groups and no tax configurations
Front office improvements on add to cart pop up, cart price details, order confirmation #13047

Many front office design bugs have been fixed and some integration improvements have been made:

Footer : fix bug on contact email when it is too long
Products :

Improve "web only" label display
Fix image dimensions in Product Card view

Checkout : Limit carrier image size on all steps of the checkout for a better display
Back office new features and optimizations
In order to gather all prices in the same place, a "Price (tax incl.)" column has been added to your products list. In one glance, you can now get both tax included and excluded prices for each of your products
The Design section of your back office has been redesigned. Now you are able to have an overview of all design features (RTL, logos, favicon and theme) and manage them the way you want.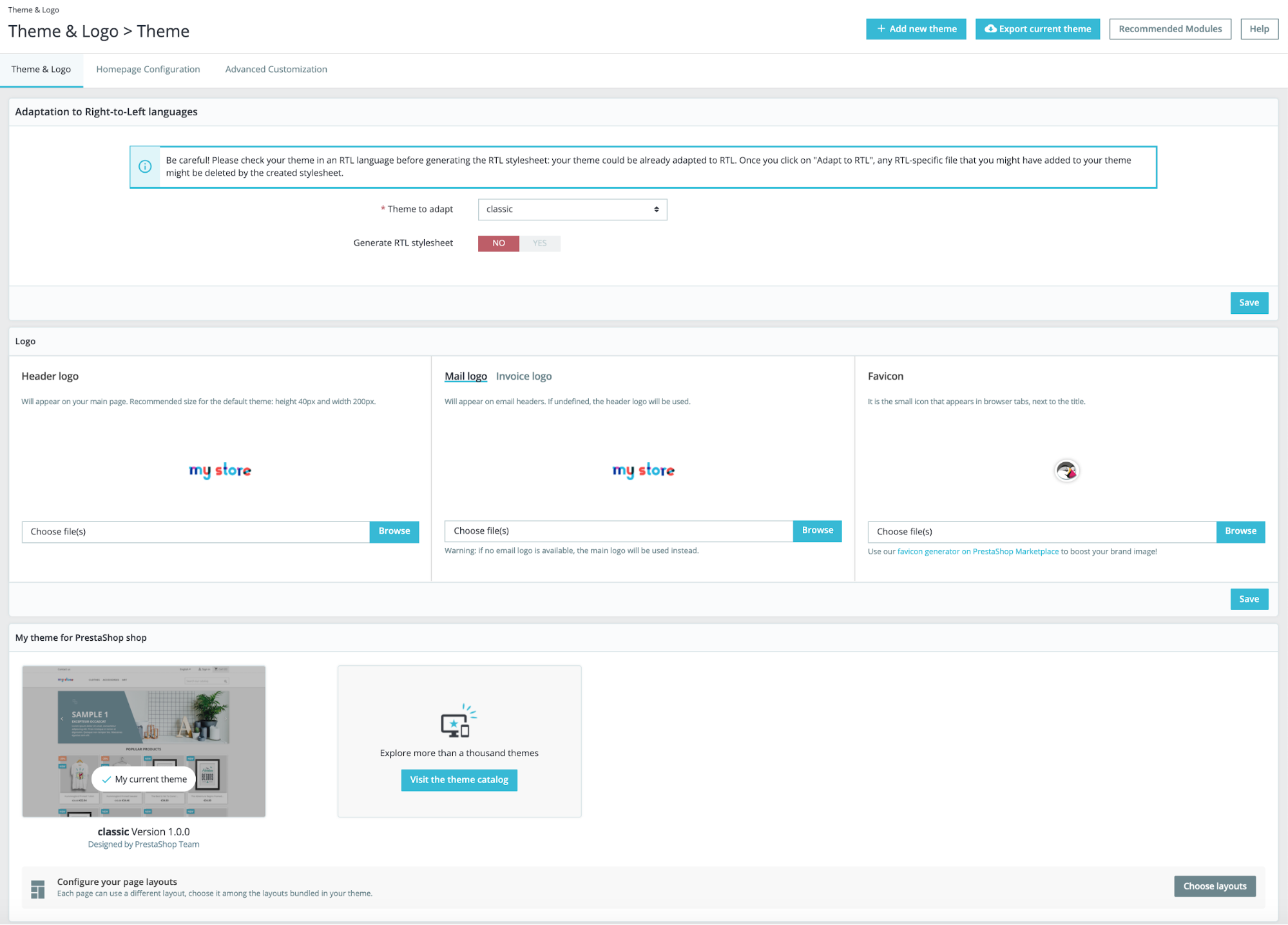 Improved employee profile menu in the back office

Five new tabs added: Resources, Training, Find an expert, PrestaShop Marketplace and Help center
Your avatar image is now displayed

Several back office design issues have been fixed or improved:

Fix quantity placeholder issue in the Stock management listing
Improved mobile display in the back office

Several helper cards have been added on specific pages of the back office to help new merchants get a quicker onboarding on PrestaShop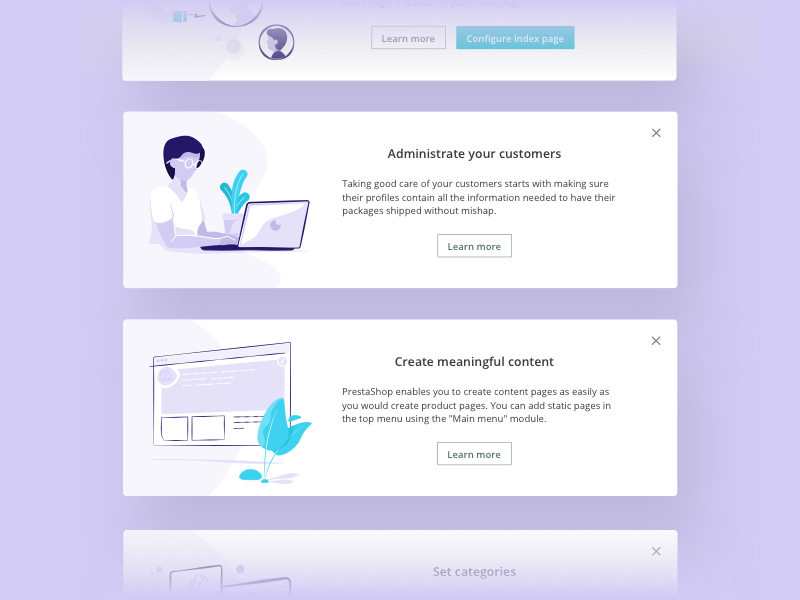 Other improvements
New "modern" template design and wording for all transactional emails along with a new email template generation system and a new back office page dedicated to email management (in Design > Email theme)
New & improved core modules
Faceted search: The module has been massively refactored and new features have been added, including the awaited price slider on the website (available after the beta)
Customer reviews with rich snippets: new module available for 1.7.6 (available after the beta)
Image Slider module improved for a better display on all devices
The technical side
Technical improvements
Support of legacy translations of modules in Translations Manager of BO #11321
Support for translation in modules' twig templates
Nightly builds and nightly board https://nightly.prestashop.com/
Support of Doctrine for modules and annotated Entities (both Front and Back-office) #12564
Price computation are now covered by Integration tests powered by Behat (human-readable tests) #12634
New mail template system based on Twig, along with a new generation system which avoids downloading all the mail templates; will allow easier customization in the future versions
Performance:

Improve employee authorization process
Cache introduced when loading modules

Support of multiple grids on the same page
New CLDR standard implementation: improved localization of prices and amounts, will allow creating custom currencies in future versions
Web services:
Notable fixes
The complete list of bugs fixed for 1.7.6.0 is available on Github.
Hooks
New hooks
displayProductActions (Product page, close to the "Add to cart" button, #13103)
displayPersonalInformationTop (Checkout funnel, before the customer login form, #13103)
additionalCustomerAddressFields (In CustomerAddressFormatter, #9132)
actionProductFlagsModifier (Allows to customize product flags, #11614)
Form hooks
Kpi hooks #12706
Mail generator hooks

actionListMailThemes
actionGetMailThemeFolder
actionBuildLayoutVariables
actionGetMailLayoutTransformations
Improved hooks
actionProductAdd now receives id_product_old when duplicating a product
Symfony Migration - new pages
Catalog > Categories
Catalog > Categories > Add new / edit category
Catalog > Brand & Suppliers > Brands > Add new brand
Catalog > Brand & Suppliers > Suppliers (will be hidden)
Catalog > Brand & Suppliers > Brands
Catalog > Brand & Suppliers > Brands > Add new brand address
Catalog > Brand & Suppliers > Brands > View brand
International > Localization > Currencies
International > Localization > Currencies > Add new / edit currency
International > Localization > Languages
International > Localization > Languages > Add new / edit language
International > Taxes > Taxes
International > Taxes > Taxes > Add new / edit tax
Design > Theme & Logo
Design > Theme & Logo > Add new theme
Design > Theme & Logo > Choose layouts
Design > Pages
Design > Pages > Add new / edit page
Design > Pages > Add new / edit page category
Advanced Parameters > Team > Employees
Advanced Parameters > Team > Employees > Profiles
Advanced Parameters > Team > Employees > Profiles > Add new profile
Advanced Parameters > Team > Employees > Add new employee
Advanced Parameters > Webservice > Add new webservice key
Shop parameters >Traffic & SEO > SEO & URL > Add new / edit page
Shop parameters > Contact > Contacts
Shop parameters > Contact > Contacts > Add new / edit contact
Customers > Customers
Customers > Customers > Add new / edit customer
Customers > Customers > View customer
Breaking or risky changes
The new CLDR implementation replaces the old one #12999. Some breaking changes were needed:

The Currency ObjectModel is now multilingual
The IcanBoogie/CLDR library has been removed
Calls to Tools::getCldr() throw a PrestaShopException
The namespace "PrestaShop\PrestaShop\Core\Cldr" has been removed
The CLDR files in the "/translations" directory have been removed

Import:

You no longer can just add categories to current categories with import to a force ID. You will have to set them all and the first will become the default_category. #10930)

Replaced library:

PhpExcel (no longer supported) has been replaced by PHPSpreadsheet #11246)

Version comparison #12251:

AppKernel::MAJOR_VERSION is now "7" instead of "17".
"1.2.4" is no longer greater than "1.2.3.4" (the latter is now interpreted as "2.3.4")

Endpoints other than index.php have been deprecated #12708):

All BO endpoints now require a token
AdminModelAdapter.php now requires the Router in its constructor

The following currencies are no longer available:

BYR: Belarusian Ruble (2000–2016)
LTL: Lithuanian Litas (end 2014-12-31)
STD: São Tomé & Príncipe Dobra (end 2017-12-31)

Other:

Slashes are no longer removed from $_GET and $_POST variables #11962
src/Core/Addon/Module/ModuleManager.php::_construct() receives an instance of CacheClearerInterface instead of CacheClearer #12022
Permissions for files created by PrestaShop are no longer set to 0777. Permissions are now set to 0755 for directories and 0644 for files.
To prevent having jQuery included twice, It is no longer possible to add jQuery in BO controllers based on the new theme using addJquery() #12716
Error messages are no longer html escaped #12788
Known Issues
Incomplete Improvements
Better alert for customer creation and customer info edit forms #13640
Issues
Download
You can download PrestaShop 1.7.6 beta here:  
Download PrestaShop 1.7.6 beta now!
How to help finish the 1.7.6
Your help will be very appreciated to finish the work on PrestaShop 1.7.6. Even if you are not a developer, your feedback has a lot of value.
You can:
  If everything is working well, comment this article to tell us, and share on social networks, we also need this feedback.