PrestaShop 1.7.8.0 beta is open for feedback!
You can download it and test it
The first Beta version of PrestaShop 1.7.8.0 is now ready for you to test!

We are very happy to announce today the release of the beta version of 1.7.8. This version includes many features and bug fixes, we count on you to test the Beta and report any bugs you encounter.
Main new features are: the redesign of the translation system that facilitates the export and the translation of your modules and themes, a new header for multistore allowing to configure the different stores more easily and quickly, and many other improvements.
With more than 1,340 merged Pull Requests and 242 bug fixes, including 15 major and 5 Topwatcher (issues that are followed by more than 5 people), this is one of our biggest releases yet!
Also, a big thank you to our 163 contributors without whom we would not have had this beautiful version. And a warm welcome to the 93 new contributors for their first contribution.
This Beta release is a great opportunity for you to start working with it before we release a stable version. Go download and install this Beta version as a test store, either on your machine or your web hosting, then play with it – and give us your feedback! We need you to test this new version of PrestaShop.
If you find regressions compared to previous versions, please create an issue on Github to help us make it stable more quickly.
Remember, this beta version is pre-release software and is expected to have bugs. Do not use it in your production shop!
New features & improvements
Translations
The translation feature has been revamped, adding the possibility to export back-office, front-office, email, themes, and module translations.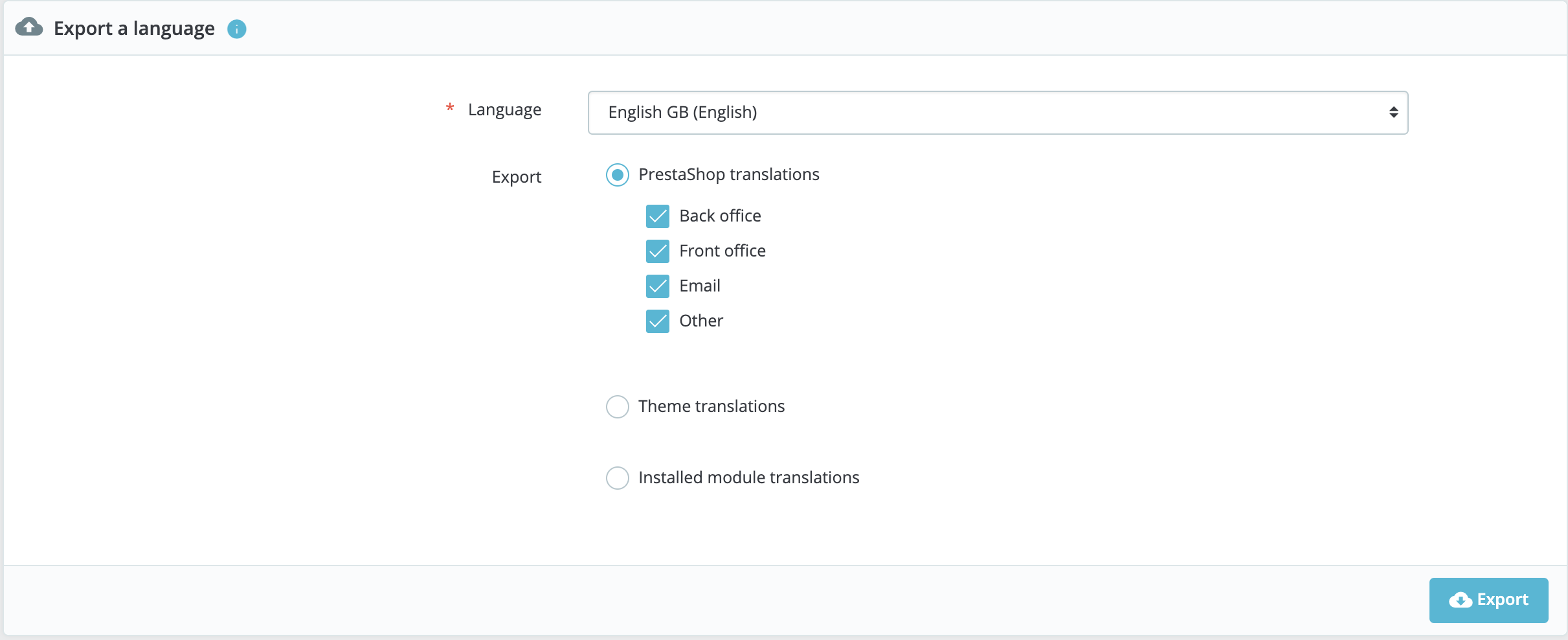 Modules using the new translation system introduced in 1.7.6 can now distribute their own translation files in the XLF format. Users can use the export tool to migrate from legacy PHP catalogue to XLF catalogue
Multistore
New Multistore header
One of the main difficulties for the merchants using the multistore was to know which store they were configuring in the back-office and this was bringing a lot of configuration errors.
This is why a new back-office header has been added. Its color can be customized for each shop or group of shop(s) in the multistore parameters. It makes it easier for the merchants to know which shop or group they are configuring and therefore avoid configuration mistakes.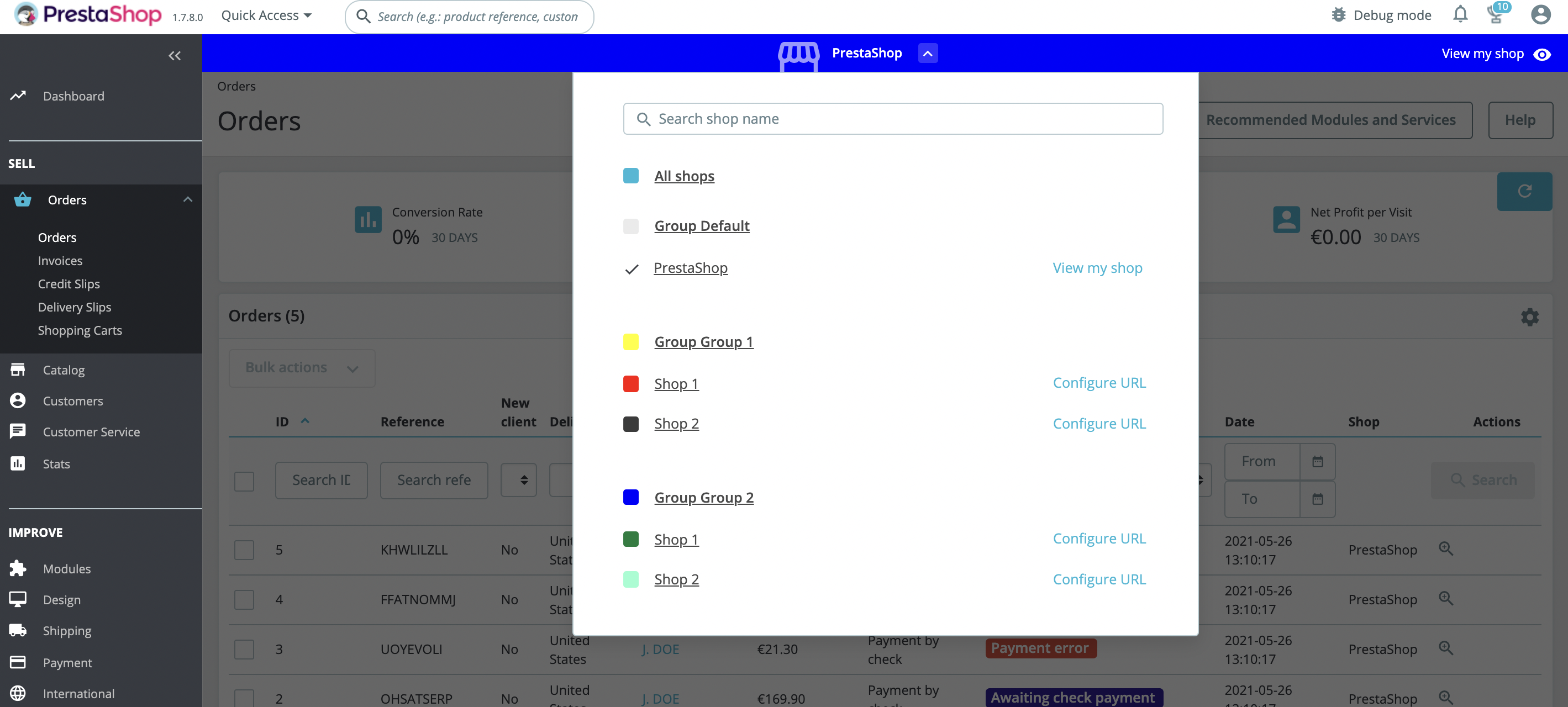 New specific settings drop-down
This drop-down is displayed in the "all shops" context and group contexts. It allows the user to see which settings have been customized in one or several specific shops. Therefore the settings that will not be overridden following a change made in "all shops" or in a group context are easier to spot.
For now, it has been implemented only in the Maintenance page of the back-office.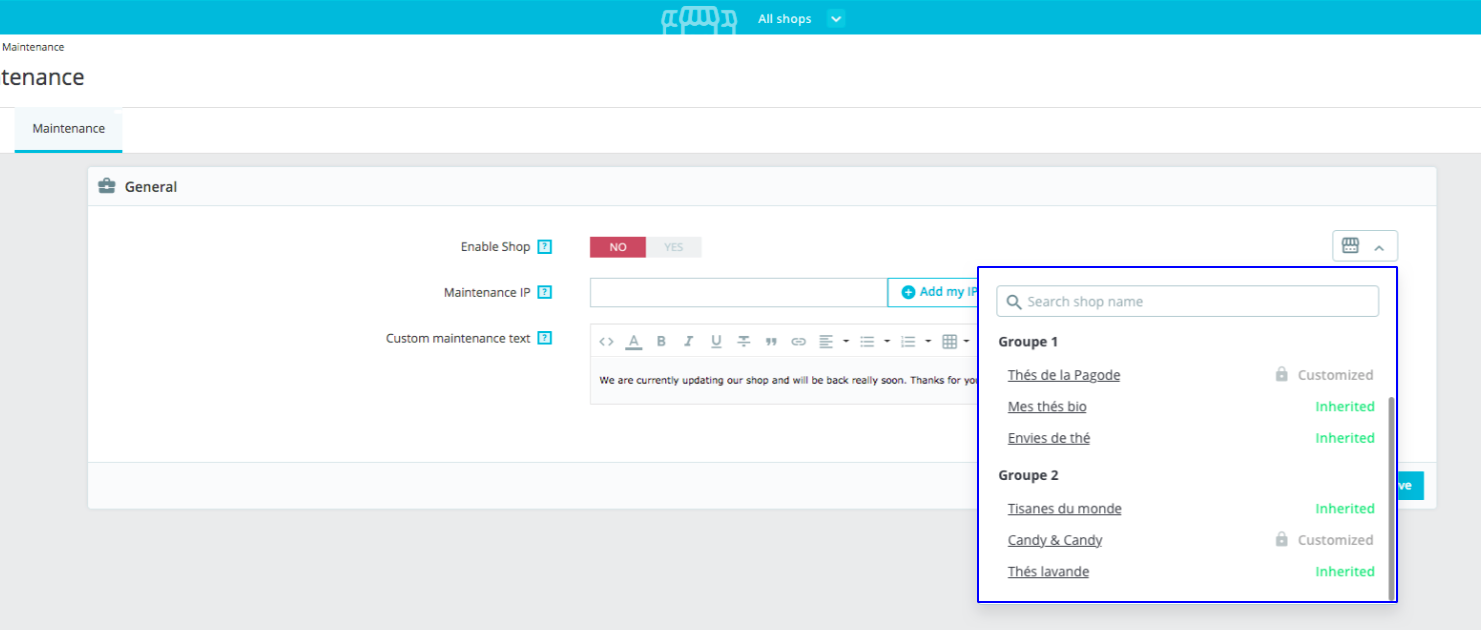 Checkboxes
Checkboxes are displayed in a specific shop context and a group context.
They are displayed before each field/toggle/parameter and allow merchants to apply specific settings to a store or a group of shops. Merchants just need to select the parameter to modify, bring their modifications, and then save.
For now, they have been implemented only in the Maintenance page of the back-office.
Linklist module
Many users reported that the linklist module was not compliant with multistore, as it was quite important for their activity to be able to feature different links in the footer depending on the shop.
This is why it was decided to make a new version (v5.0.0) of this module to make it compatible with multistore and it was achieved thanks to the great work of Krystian Podemski

Experimental features
PrestaShop 1.7.8 introduces Experimental features (also known as "Feature flags"). This technique, widely used in the sofware world, provides curious or adventurous users the option to test out new features that aren't stable enough for general use yet. This allows developers to experiment, get feedback, and iterate more quickly – without ever altering the user's experience nor the system's stability. You can enable and disable experimental features in Advanced Parameters > Experimental Features.

Back-office Product page
The product page has undergone a major rehaul, but it is unfortunately still not ready for prime time. However, thanks to the Experimental Features introduced in 1.7.8, power users can now test its exciting new features right now! Once activated, merchants can manage their products using both the regular and the Experimental product page, and compare them side by side.
The experimental product page is due to replace the current one in the next PrestaShop version. Please do test it out and give us your feedback!
Here are the features that you can test now:
Significantly speedier combination management
The list of combinations is now paginated, providing a significant performance improvement for products with lots of combinations.
Find combination by attributes
This can help merchants to find the right combination quickly, especially when there are lots of them.
Bulk suppression in the image manager
Merchants can remove images from the product easily (which is especially useful when the product features a large number of images).
It is no longer necessary to remove, add, then re-assign an image.
Improvements of the UI Kit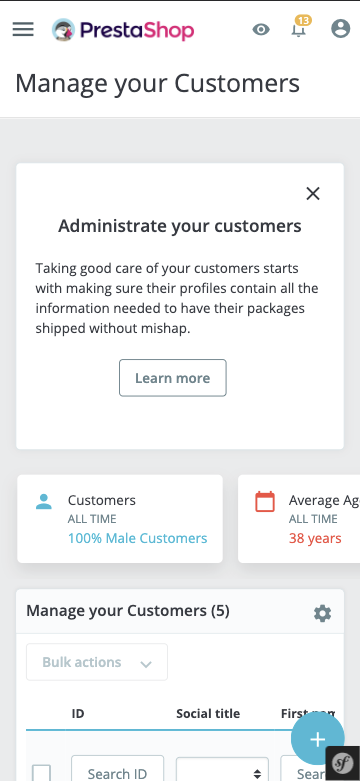 Front-Office improvements
Back-Office improvements
Notable fixes
Topwatchers:
Major bugs:
Front-Office
Back-Office
WebServices
The id_group_shop was shared instead of id_shop_group in webservice parameter #19566
Distribution
.docker folder should not be inside release zip #22233
Notable technical improvements
Hooks
Tooling
Theme
Other
Dependencies and Software compatibility
Symfony migration
See the new pages migrated in Symfony, we are now about 65% of the Back-Office pages migrated.
International > Locations > Zones
International > Locations > Add new / edit zone
Download
You can download PrestaShop 1.7.8.0 beta here:
Download PrestaShop 1.7.8.0 beta now!
How to help test 1.7.8
Your feedback on this beta is essential. The more regressions you find right now, the fewer bugs there will be on the final release, which means fewer patch versions and fewer problems on your (or your customer's) online store.
You must:
If you have any questions about the version and its features, feel free to share them on the PrestaShop open source project's Slack.
Known issues